Hello? Korea calling...
I got a phone call the other day. My phone showed that it was an unknown number and I was thinking of letting it go to voice mail. At first I did not recognize the voice and I was thinking, "Oh great! Another telemarketer (I had gotten one the past week)!"
"Hello, It's
Mollie
!"
Mollie is currently serving in the Army and stationed in Korea. I had met her under rather sad circumstances as she was in town to attend her friend's funeral who died in Iraq last year. I was with the Patriot Guard Riders and we made sure her stay here in Los Angeles was as painless as possible. She had mentioned coming back to visit sometime this year, though nothing was planned out yet.
It took a while to register, then I'm thought, "She's in town!"
I had a list of a bunch of things to do when she came to town and I'm screaming in my head, "No fair! No warning!" I calmed down a little and learned she was still in Korea. She was warning me of another package she had sent me.
I was thinking the last time she sent me a package...
We spoke for a while and got caught up a little. Turns out she has been pretty busy and will be receiving her Associate of Arts Degreee soon... Woohoo!
We have been keeping in touch through emails since she was here last year and I've even spoken to her mom (through emails) a couple of times (that's how I found out about your snowflakes collection, Mollie).
So the package arrived yesterday. It was not as large as the last one (no Big Wheel this time). The theme was still motorcycles and she also included a few things for my sister,
Celia
and her love of all things "Hello Kitty". Great another friend feeding her addiction, hahaha. So here are the contents of that package...
2 motorcycle sculptures
2 sets of small flags (American an Patriot Guard Riders) to mount on the cycles
A package of Fig Newtons (she read #89)
A bunch of Hello Kitty stuff for Celia.
A hot glue gun (she even sent one to make sure I would be able to mount the flags to the motorcycle sculptures!).
So here they are: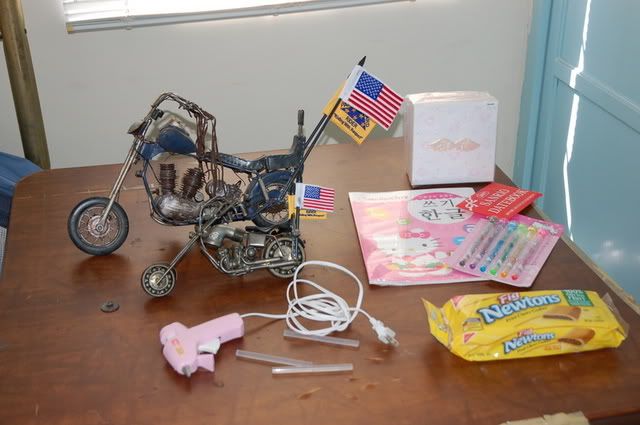 Thank you Mollie! It's unfortunate that there are restrictions to what I can send you through your APO address. Reading the rules and regulations, it is hard to know what is allowed and not allowed.
It is always great talking to friends and this was no exception.